Thank you for your interest in this site.  Please note that all images are copyright protected and not available for use without permission.  Please contact journeys@tenthousandcranes.com for any inquiries about the information contained in this site.
A journey begins.
___________________________________________________________________________________________________
I knew I had arrived when a blast of humid air hit me like a vacuum cleaner in reverse. After nearly two days in airports and planes, I'd lost touch with what real air felt like, but wasn't feeling terribly appreciative of THIS air or the cockroach-like critters scurrying in front of my path. If this was midnight, what was daytime like in Hong Kong.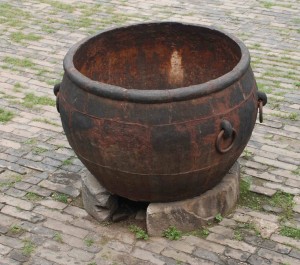 The journey had been long, but uneventful, except for the momentary start given when Air China couldn't find me in their reservation system, after I'd already departed Boulder at 3:00 AM to fly to San Francisco. Seems there are still a few kinks with the relatively new Star Alliance between United and Air China. Someone's reservation system doesn't have a forward button. Forty-five minutes later the problem was resolved, but of course my return flight still has the same glitch, yet to be resolved. So if you don't see me by the start of the semester, you'll know I am arduously studying Mandarin and house hunting somewhere in China.
While a few folks grumble about United, I've never had a single problem with them in all my years of flying (except whatever caused the current glitch). Luggage has always arrived with me and in one piece. I'd heard murmurs about Air China and am pleased to report that flying their airline took me back several decades to when the flight crews (dare I use that verboten word stewardesses?) wore heals and dresses and pampered customers in every class. Elegant and poised, each attendant had hair pulled back in a stylish bun-like doo, and gestured towards seats and drink carts with that certain slow-motion hand movement associated usually with royalty and Rose Parade queens. I felt as if I were watching a ballet. While the flight captains were men, it was this incredibly efficient crew of young women who navigated us over the ocean, feeding us two robust meals, and keeping us supplied with beverages, blankets, pillows, and even warm towelettes. Should we have nodded off, they would leave neatly presented piles of whatever we had missed on our laps or in the next seat so we would not go without anything. We were even treated to little ice cream containers as a late night dessert. I haven't seen airplane treatment like that in economy class for decades.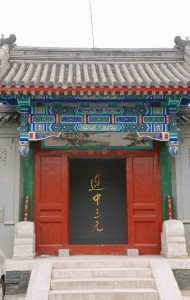 Our first landing was in Beijing, an airport I am destined to see several times over on this odyssey. On our approach, I noticed endless fields and rows of what seemed like hot houses. I mean hundreds.  The airport itself is an all-glass structure, strutted and trussed by orange-red metal. Instead of being scattered about the tarmac as I'm used to seeing in other airports, the ground crews were all neatly lined up next to awaiting baggage trains. A noteworthy orderliness caught my attention, though I could not pinpoint all of the differences. Most of the ramps connecting planes to gates were glass also, creating a glass house feeling. I had been told to scurry to my connecting flight, which was at a very distant gate, and was a bit dismayed when I rounded a corner to encounter a long line for customs. I flagged down one airline person and asked what I might do and she gestured I might ask an immigration official at the empty line for Non Aliens. I'm not sure if it was my tired look, my feminine wiles, or my gesturing to my approaching departure time that prompted him to process an Alien through his gate and stamp my passport with the appropriate entries, but he did so with silent efficiency.
My walk through the spotless Beijing airport was startling, not because anything unusual happened, but because no other travelers seemed to be around. I was in the international section, so perhaps the domestic area was abuzz with activity. Instead of people, I was surrounded still by glass, as both exterior walls and interior dividers. It was tasteful, not gaudy, but coupled with highly polished granite floors made for a mausoleum feel. The array of shiny surfaces was broken by vast expanses of potted plants lining walkways everywhere. At different turns in the various concourses, women sat scrubbing the floors with tiny brushes, removing bits of whatever might have blemished these otherwise lovely surfaces. Mop people glided past to further ensure my pathway was clear of tarnish and debris, and I found myself genuinely appreciating this level of caring and cleanliness, and further reflecting on trashcans in home airports where travelers thought they got points for simply getting "close."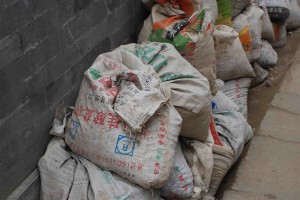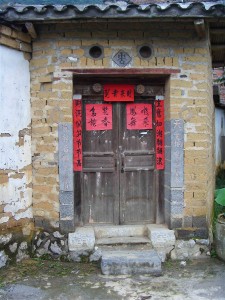 After stretches of granite, I would encounter retail areas that appeared more like brilliantly lighted movie sets than shops. In their blinding lights, they were also devoid of people, save for the young clerks dressed either alike in gray or black with boots and spiky hair or by women in thematically based dresses with some regional representation that eluded me. It was a bit like a Rod Serling script where the clerks didn't quite realize they should be waiting on customers rather than walking about in the lights like live mannequins. I do not know where the customers were and sometimes wondered if I had wandered down a wrong concourse and was watching a rehearsal for something not intended to be real. It was just a bit bizarre in this vast hub of humanity to have such an empty segment of the airport.
And then, one escalator flight down, I was suddenly amidst people again, as if they had emerged from the glass like holograms coming to life. We boarded and began the last leg to Hong Kong. I must admit to dozing through much of the flight, as I had over most of the trans-Pacific flight, given the several sleepless nights at the computer that had preceded the trip. During one waking interval close to landing, I was treated to glimpses of lighted boats as they made their way up or down a river below us. Some of the boats were large in size, their decks flooded with light, casting dancing patterns on the waters underneath, while others were small, evoking images of a family huddled together in the hold of their floating home with lanterns swinging astern. It was a memorable introduction to Hong Kong, far better than the awaiting blast of hot air.
Customs awaited again, since Hong Kong is both part of China now and still its own entity, but this went smoothly and sent me out into the hallways wondering how I would navigate my way an hour across a town I did not know to a hotel booked on line. Ray, with his good looks and crisp suit, saved the night by being one of those handy taxi/van services that appeared just seconds before the "what am I doing" panic set in. Ten years in a business he must have then begun at age twelve, he and driver courteously shuttled me through the night streets. I sighed with relief when the driver showed great decorum at following speed limits and not playing "chicken" with other passing vehicles, much as is done with shuttle drivers in Los Angeles and the cities I am used to in South America (see article about Lima embedded somewhere in this soon-to-be website). My hotel superseded even Ray's efficiency, though Ray's Jetlink service is recommended to anyone needing transportation of any kind in the area.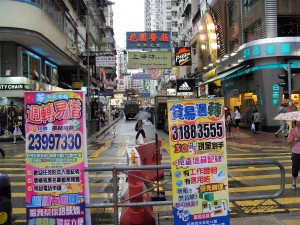 I was greeted curbside by a doorman/concierge/bellboy at The Dorsett Far East at 1:00 AM and shown to a nicely appointed, albeit tiny, room in a city known for tiny rooms where square footage is at a premium. Having considered some dubious-sounding, money-saving guest houses during my on-line search, I was grateful for the fortuitousness of my selection. It was a handsome respite from the journey and my bed lay right next to a wall of window overlooking a quaint treed/ponded park, dazzling night-lighted skyscrapers, and those stacked digital signs that seem to climb the walls of buildings in their promotion of banks, airlines, and food in uniquely Asian ways. I had indeed arrived and the bed looked inviting.
I was in Tsuen Wan, an area of Kowloon deemed less touristy than the inner workings of the sprawl that had become greater Hong Kong. I had a phone number for one person in the area, whose email had indicated I would probably need to hop a train to meet her since I was staying in an outlying area. Yeh, just hop a train. In blind faith I ventured out into that same blast of chokingly humid air that had somehow managed to follow me all the way from the airport. I bought an octopus pass as advised and quickly found myself amidst one of the world's most efficient train systems (I'd call it a subway, since it's not really a train, but I learned the folly of that when I followed a "subway" sign and found that simply meant underground pathways beneath the streets rather than any form of transport.). The MTR is an efficient people moving network that crawls below and above ground and even tunnels under the harbor waters that separate Hong Kong proper from Kowloon and other metro areas. Lighted route maps above every train door blink to let you know precisely where you are on the route and when you are approaching a connecting branch just steps across the platform. The Octopus card was a blessing. For a small fee I had a magnetized pass that I waved over the many turnstiles that granted me passage on what quickly became numerous train rides all around town. But I am ahead of my story here in my delight over the mass transit system that carries an array of men in suits to men with construction buckets and school children in uniforms to women with bags and tired feet.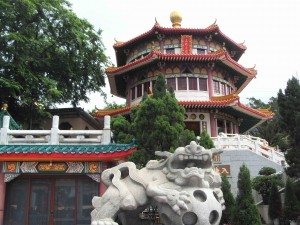 I was off to meet the sister of someone I hardly even knew back home in Boulder because I happened to have been having my hair cut one day when a box of handmade bags arrived from Hong Kong at the hair salon. These unique bags immediately caught my eye and further piqued my interest when I eavesdropped at the snippets of conversation that accompanied their unpacking. Sister…women addicts from streets of Hong Kong…handcrafted bags as part of new life directions. As a professor of Cultural Geography, I was ON this one, quickly asking how I might contact the sister because I was intrigued with the bags and the project. At the time of this encounter I was headed to Mongolia, a far cry from Hong Kong. But several months later and an array of changed plans, I was on the MTR about to meet "the sister," a true heaven- sent blessing for me since I was flying solo in Hong Kong for several days.
A brief struggle with a foreign pay phone and what turned out to be a small donation of oddly rimmed coinage to the local phone company finally brought me face to face with Annalisa, who led me down several blocks of the factory area of Kowloon and into the belly of a concrete building long overdue its meeting with the wrecking ball. Annalisa was charming, someone who had settled in Hong Kong ten years ago as she had been called to work with the St. Stephen's Society, an organization committed to being the light at the end of the tunnel for many in life who found themselves too far down a road of addiction. This impressive organization has its own story, which can be better found at their own website. Its Christian premise and genuine support structure resonates with folks who have often tried and failed at numerous other programs.
In today's world, addiction means not only to drugs, but to too much time hooked on hand-held gaming machines in a younger generation's flight from the stresses of the world around them. Many pressures can fall upon young people today in a one-child policy country, since they are expected to work hard and be the providers for their parents in the years to come. And many a loving parent has sent a child off to the city for work, never knowing that the realities of the cities don't always land the right kind of work for a desperate and naïve child. St. Stephen's Society deals with these children and thousands of adults who have lost their footing in this precarious world. The program serves all willing to embrace its context and has changed the lives of many around the world.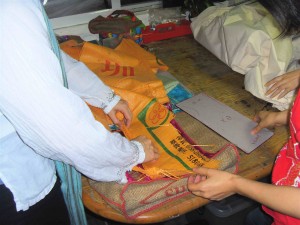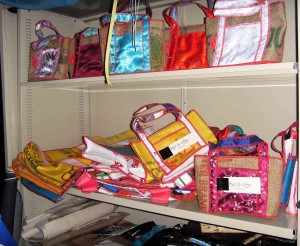 The bag project is the creative output of Annalisa who rather boldly launched this solo enterprise on her own as she faced a desire to employ some of the women who came through the St. Stephen's Society program, since most of the work programs were more geared toward men gaining employable skills in construction or food canteen vending. She is a great believer that people have many skills and, given the opportunity, will find constructive ways to utilize those skills. Starting with handmade cards from her own photos and handbound journal-like books, Bez & Oho now employs women in the design and making of a variety of purses and bags, using recycled materials such as rice sacks and silk remnants. The bags are jaunty, crafty, and clever, serving a variety of needs from function to fun gift-giving. More important, though, are the women who put the fabric of their soul into their making. I was privy to spend most of the day with Annalisa and these delightful and remarkable women as they showed me their craft and let me accompany them on a supply-buying journey into the streets of Mong Kok, one of Kowloon's districts known for its shopping. It's a live version of a merchandize mart, except it's on the streets and tucked into tiny stores.
Each woman has her story, something I hope to write about when I have more time to digest all that they taught me. Meeting them several years clean and deeply embedded in productive and meaningful lives was about as good of a beginning to any journey as one could ask for. For their own protection, their names and photos shall remain in my heart, but not on these pages. They have wandered down some dark roads in life and have seen their own lives or those of their loved ones shattered by what can linger in the darkness, but each has reached out to grab a hold of that greater essence behind this vast universe and each has found her own personal resurrections. Annalisa has listened to her guidance, which she clearly credits to her Christian foundation, and has in her own way turned water into wine by launching her small enterprise based on a faith that has carried her far and opened doors of opportunity for others willing to walk the line of belief and hard work. <bezandoho.com>
I returned to my hotel nourished by the day, enjoying my bed immediately adjacent to a large window overlooking a park where gaps in trees allowed for glimpses of soft lights reflecting on the many ponds dotting the park with its traditional Chinese style buildings. It was mesmerizing and I lay for hours looking out at this calming view backdropped by skyscrapers and lights.
__________________________________________________________________________________________________
The next morning at breakfast, a young couple caught my eye as the husband helped his wife be seated at a table near me before heading to the buffet line. I thought to myself how sweet it was to see the man dishing up a plate for his wife, but was quickly bought back to reality when I saw that he instead proceeded to pull out his own chair and be seated with the newly filled plate. The patient wife was then free to get up and serve herself. I saw this repeated over several breakfasts by different couples and was dismayed each time to realize we are still a planet of evolving people and have many miles to tread before we reach full enlightenment. I could not ascertain the cultural background of any of the couples, but was reminded over and over of the deference to male preference in this particular cultural arena.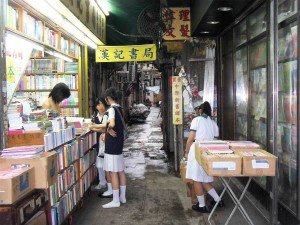 On the trains I had noticed numerous mothers doting on their young sons, most of which they held in their laps as the sons fondled their mothers' faces, laughed with, or otherwise squirmed in the safety of their mother's embrace. The doting caught my eye, contrasted by relatively few sightings of similarly doting mothers on their young girls. Most of the young girls helped schlep bags or in turn dote on a younger brother in a stroller. Not to say, of course, that there were not numbers of parents tending to their feminine offspring, but overall I was struck by the affection displayed toward the young boys.
Perhaps this affection stood out on trains where most riders doze off or drop into serious contemplation of the floor. We don't have subways in Colorado, so I don't have that commuter frame of reference, but I just sensed something different in that so many riders seemed to take this opportunity to drop into the inner levels of their being, briefly taking leave of the bodies seated on slick metal train seats while the soul sought nourishment or repose in quieter places. Teenagers, of course, fidgeted with cell phones or electronic gadgets, even continuing the game playing on the escalator rides out of the bowels of the train system, though I saw many an adult doing so also. Actually, cell phones were the tool of many riders, either checking messages or adding to the din of sounds that echoed through the trains moving like bullets through Hong Kong's underground.
I had thought I might be an anomaly, standing out as a near-six-foot western woman, but I was largely ignored, even though any train of fifty only held one to three westerners at any given time. The array of intermixed faces bespoke of centuries of British occupation of the area coupled with the economic opportunity that Hong Kong used to represent to peoples from other parts of Asia. There was certainly no one look but a vast presentation of faces from all walks of life and experience.
My last few days were spent exploring nooks and crannies of shopping districts, from the more sophisticated Central area of Hong Kong with stores fronted by doormen in suits and white gloves to some dark back alleys where sweating women in old clothing scrub crates and other items in places not meant for human eyes, let alone human occupation. Vendors of all types offer their wares for sale, from crock pots of boiling eggs (some chicken and others smaller black and white spotted affairs) to magazines and from jewelry to dried fish.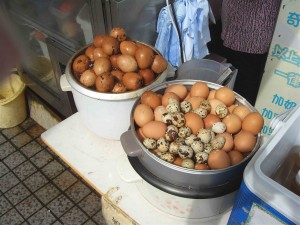 Greater Hong Kong is comprised of Hong Kong Island, Kowloon, the New Territories, and a series of outlying islands, all sub-cities of their own strung together in what is known as Hong Kong. Accessed by train, they simply seem an interconnected array of commercial districts, wherein one loses sight of what side of the harbor they might lie on. And this approach to Hong Kong does make the area seem like nothing more than a repeating den of stores, bounded by what used to be the world's largest container port (shipping harbor).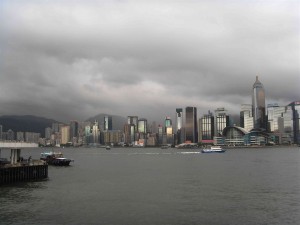 I have never in my life seen more shopping in one area. As one big shopping opportunity, one store front is actually the entrance to hundreds of different shops scattered on floors connected by escalator, Hong Kong's other people moving wonder found in almost greater abundance than asphalt. In stores, there isn't, say, a typical luggage department, but is instead a luggage area in the store where different sales staff represent different brands of luggage. I suppose it's like the cosmetics sections of major US department stores, separated by brand names and staffed by trendy people in white coats. But imagine this setup for every product conceivable. The same is found out on the streets and is so very typical of developing world commerce wherein all of certain types of shops are clustered together in one area. I've seen this worldwide and recall it from South America in particular. While on the supply run for Bez & Oho, we went to a section of shops dedicated to beads, buttons, and hooks and then to another section dedicated solely to fabric.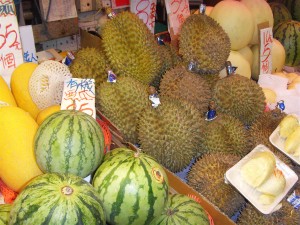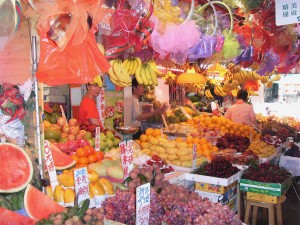 The underground train hallways are also lined with stores and shops, the streets are an endless hub of commercial activity, and inside nearly every building is an inner sanctum of some sort of retail enterprise. Hong Kong is a veritable warren of shops, from slick and glamorous cosmetics and sequined jackets to shelves lined with cameras or jars of Chinese medicine. Some interior malls are so large they could house aircraft carriers.
Upscale hotels and trendy restaurants abut Mrs. Song's tiny storefront lined with pastries, dried food, and very old-looking bottles of beverage. The streets are an endless symphony of noise, not necessarily discordant and somehow rhythmic in its cacophony of unrelated sounds. Overhead signage abounds, decking streets and buildings much like 3-d graffiti. These are the images most of us have of Chinatowns worldwide and Hong Kong does not disappoint. Signs in Chinese character vie for space with signs in English and together create this sort of visceral array of colorful stalactites.
I suspect 80% of Hong Kong's working youth are employed in retail sales…in stores where the exact same outlet can have several branches in the very same block…block after block. There must be millions of cell phones for sale in this one mega city, and millions of cameras, face powders, and designer T-shirts. Of Hong Kong's 1103 square kilometers, 1102 must comprise one enormous interconnected shopping mall. Well, obviously that's not quite true since part of Hong Kong is actually comprised of green covered mountains as a surprisingly immediate backdrop to the city's famed skyline.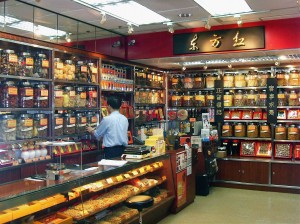 Travel and Info Tips: Since I spent months reading Lonely Planet and the likes in preparation for travel, I know the value in getting personal tips about certain places or services. When I feel they are noteworthy, I will mention some herein.
• Do purchase an Octopus Card for 150 HK$ (US$19) that will take you everywhere around the area (train, ferries, etc.) and even let you make purchases at convenient stores. Next to your passport, it will be your greatest traveling companion.
• Dorsett Far East Hotel: since this is located in the more outlying Tsuen Wan district at the end of the Island line, the prices are less than in the more heavily concentrated centralized districts of Hong Kong or Kowloon. I found it to be superb and well worth the extra bit of train time to give me ultra comfortable accommodations, easy access to shopping (shops, banks, food, etc. just outside the door), a wonderful breakfast buffet, and only a two-block walk to the MTR (with immediate access to a major bus staging hub right outside the hotel). The staff were all top end, my view was an absolute delight to return to after the bustle of each day, and I was close enough to but pleasantly away from some of the squash of hectic enterprise found in most of the other districts. I can't say enough about the place, which I booked through Direct Rooms, an online hotel booking agency that also went the extra mile in prompt, courteous, and reliable service. < http://directrooms.com/>
• Airport taxi: Jetlink Limousine Service, Ray Hue, hiaceray@yahoo.com.hk 852.6770.3880.
• St. Stephen's Society: <http://www.ststephenssociety.com/>
• Bez & Oho – the wonderful bags: bezandoho.com